Model Number:
Pairing Plug Model Number:
Features: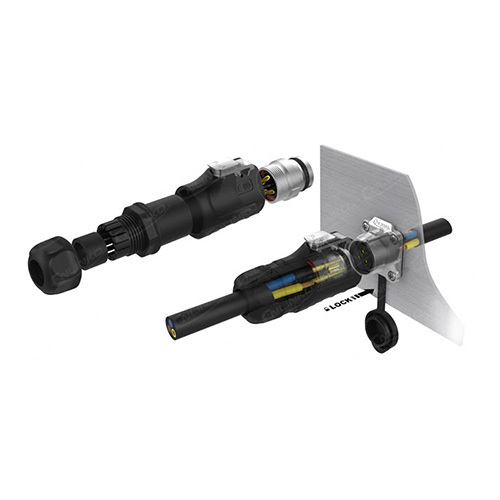 ● 2 Cores in line with the diversity of industrial demand, signal and power compatible match.
● Socket and internal components zinc alloy material, with a complete electromagnetic and radio frequency interference protection.
● Gold-plated contacts, high-strength corrosion resistance and electrical conductivity, effective response to temperature changes in current.
● PBT material shell, stable electrical performance, high strength and resistance to pressure, high temperature resistance, anti-explosion, anti-corrosive.
● Unique docking design, a solid line extends infinitely long
● 4-hole mounting, solid flawless, thread type transposon installation, suitable for circular openings industrial installation.
● 20A rms rated current
● Protection Level: IP67
Specification:
| | |
| --- | --- |
| Cable specification | 2.5m㎡~4m㎡/14-12 AWG |
| Diameter range | Φ8mm~Φ12mm |
| Contact diameter × number | Φ2.7x3 |
| Rated Current (A) | 20A |
| Operating voltage (AC.V.rms) | 500V |
| Contact resistance | <1mΩ |
| Temperature rise | 20A contact temperature below 30℃,25A ......40℃↓,30A......50℃↓ |
| Withstanding Voltage (AC.V) 1 minute | 2500V |
| Insulation resistance | >500MΩ |
| Protection level | IP67 |
| Durability | ≥500 times |
| Working temperature | -40℃~80℃ |
| Connecting mode | Plug/unplug |
| Assembly wire | Solder |
| Housing, the insulating parts | High-performance engineering plastics |
| Hardware | Zinc Alloy (pearl hard chrome) |
| Copper needles | Copper alloy (gold-plated 4U) |
| Waterproof circle | Silica gel |
| Flammability rating | UL94-V0 |